Rev.Net's Barracuda Spam and Virus Firewall is able to trap suspected spam messages into a quarantine for each user on the Rev.Net system. This is very similar to other popular anti-virus and anti-spam quarantines except that it resides on Rev.Net's server - not on your computer.
Messages that reach a certain spam "point value" based on our filtering rules will be sent to your quarantine while messages considered to NOT be spam will be delivered to your Rev.Net inbox as normal and will be ready for pickup by your normal e-mail program.
If Barracuda quarantining has been enabled for your account, you will receive a daily alert via e-mail that lists all of the messages in your quarantine.
Spam Quarantine E-mail Alert
If there are quarantined messages waiting for your review on the Barracuda, you will receive an e-mail message that looks just like the following example: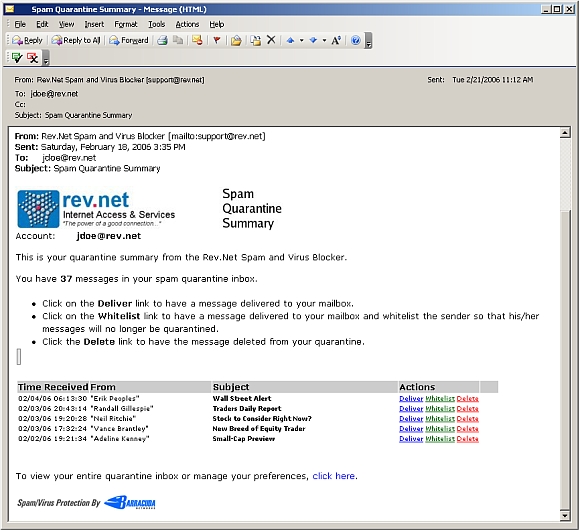 Messages currently in your quarantine are displayed to you along with all of the actions that can be performed on them. You have the following options:
Deliver- Send this particular e-mail through to your Rev.Net inbox where it can later be picked up by an e-mail program.
Whitelist- Whitelist the sender of this message and deliver this message to your Rev.Net inbox. Messages from this sender will always be delivered to you.
Delete- Delete this item from your quarantine permanently and do not deliver it.

After clicking any one of the provided actions your web browser will open up and automatically take you to your quarantine folder on our Barracuda firewall. The requested action will then be performed and you will remain logged in to the Barracuda in case you wish to perform other actions.
This is what you will see after you click an action and your web browser opens: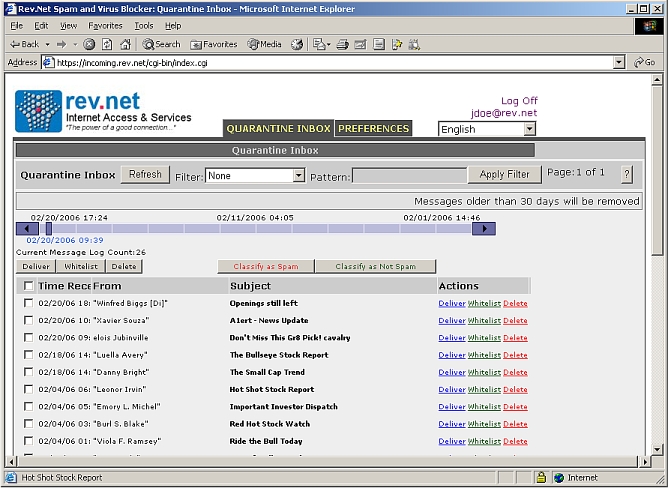 While working directly within your Barracuda Quarantine, you can mark messages in your quarantine as SPAM or NOT SPAM. Marking a quarantined message as NOT SPAM will cause it to be delivered to you as normal. Marking a message as SPAM will cause it to be permanently removed from your quarantine.
When you mark a message as SPAM or NOT SPAM, you are also tailoring the Barracuda's spam detection to your own personal preferences. Since not everyone will always agree that a particular message is spam, Person A's spam preferences will not influence Person B's spam preferences. This ensures that each user is able to more precisely classify exactly what they consider to be spam or not spam.
At this point, you are fully logged in to the Barracuda firewall and can modify your Barracuda Spam and Virus Filter Settings. If you are finished working with your quarantine, click the Log Off link at the upper right of the Barracuda Quarantine screen.

Checking your Quarantine Anytime
If you wish to see what is in your quarantine box at anytime, you can log in to the Barracuda manually from your web browser. You will need to start your web browser then navigate to the Barracuda log in page. Once there, type in your e-mail address and password.

First, enter the Barracuda web address (also called a URL) into your browser's address box:

https://incoming.rev.net

Example (using Internet Explorer):

If you get a security warning like this...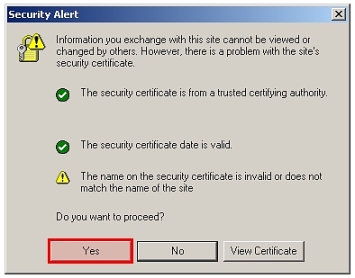 ...just click on the button labeled "Yes".
You will then see the following screen: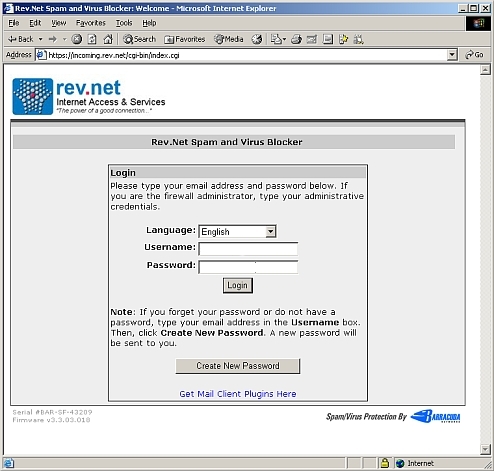 Login procedure
Select the desired language. NOTE: your browser must support these languages or they will not be displayed correctly. In most cases, you should leave the language set to English.
Click into the Username box and type your ENTIRE e-mail address. If your username is jdoe, you would type jdoe@rev.net as your Barracuda username. For example:

Username: jdoe@rev.net





Click into the Password box and type your Barracuda Password. (If you do not know your Barracuda password, make sure you have filled in your correct e-mail address in the Username box, then click the Create New Password button to have your current password mailed to your Rev.Net e-mail address.)
Click the Login button.